Lupus and Beyond: Exploring the Common Comorbidities of this Autoimmune Disease
Lupus and cardiovascular disease
Lupus and skin complications
Lupus and kidney disease
Lupus and infections
Lupus and metabolic syndrome
Lupus and cancer
Lupus and thyroid disorders
Lupus and fibromyalgia
Lupus and mental health
References
Further reading
---
Comorbidities are common in people with lupus. The autoimmune disease increases the risk of complications such as cardiovascular disease, cancer, and even mental health illnesses. Here, we explore some of the most common comorbidities in lupus.
Lupus and cardiovascular disease
Cardiovascular disease has emerged as the number one cause of death in people with lupus since death from kidney disease has declined in recent years. Around half of people with lupus experience high blood pressure, pericarditis (inflammation of the heart), atherosclerosis (hardening of the arteries), angina, Raynaud's Syndrome, and other cardiovascular symptoms.
Recent research estimates that the prevalence of symptomatic coronary artery disease (CAD) ranges between 6 and 12% in people with lupus. They are also at a 52-fold increased risk of CAD compared with those who do not have lupus and are more than twice as likely to be admitted to hospital due to cardiovascular problems such as congestive heart failure, stroke, or myocardial infarction, especially in those aged 18-44 years.
Lupus and skin complications
Skin complications are incredibly common in people living with lupus. Around two-thirds of people with the disease suffer some type of skin ailment during their lifetime, particularly on areas of skin that get the most sun exposure.
Cutaneous lupus is the name given to given complications unique to lupus. They are categorized into three types: chronic cutaneous lupus, subacute cutaneous lupus, and acute cutaneous lupus. Round sores on the face and scalp are the hallmarks of chronic cutaneous lupus, whereas red scaly rashes and red ring-shaped sores are categorized as subacute cutaneous lupus. Finally, butterfly-shaped rashes that often appear on the face and are sometimes mistaken for sunburn are known as acute subcutaneous lupus. In addition, people with lupus may also suffer from hair loss, calcinosis, and mucosal ulcers.
Lupus and kidney disease
Historically, kidney failure was the primary cause of death in people with lupus, causing them to die young. By catching disease flares early on and giving patients effective medications, the kidneys can be protected from damage, preventing premature death in people with lupus.
Lupus poses a significant risk to the kidneys because the disease attacks the body's renal tissue. As a result, a potentially life-threatening form of kidney disease can develop, known as lupus nephritis. Today, it is estimated that roughly 6 out of 10 people with lupus will go on to develop lupus nephritis and around 1 in 10 of those will develop end-stage renal disease because of this complication. Therefore, while kidney failure is better prevented than decades ago, kidney disease still poses a significant risk to those with lupus.
Lupus and infections
The body's immune system is weakened by lupus. In addition, the medications used to treat the disease often suppress it further. This means those with lupus are more likely to develop infections and infection-related complications than those without it. The most common infections experienced by those with lupus include those that affect the respiratory tract, skin, and urinary system. Opportunistic infections are also common, such as herpes zoster, staphylococcus aureus, E.coli, salmonella, and Candida albicans.
Lupus and metabolic syndrome
Metabolic syndrome is an umbrella term for a family of conditions that can lead to the development of type II diabetes. The syndrome is common in lupus, meaning obesity, high blood pressure, elevated blood sugar, and high cholesterol are more common in people with the disease. The increased prevalence of metabolic disease in lupus is believed to be caused by multiple factors, including the disease itself, medications used to treat it, and lifestyle issues.
Lupus and cancer
Numerous studies have revealed the relationship between lupus and a number of cancers. It is well-understood that people with lupus are at an increased risk of many types of cancer, including bladder, cervix, esophagus, colon, anus, liver, pancreatic, hepatobiliary, lung, non-Hodgkin's lymphoma, Hodgkin's lymphoma, larynx, leukemia, multiple myeloma, non-melanoma skin, oropharynx, renal, thyroid, cervical, vagina/vulva, and skin cancer. A recent study found that patients with lupus had a 62% elevated risk of cancer morbidity and a 52% elevated risk of cancer-related death.
Lupus and thyroid disorders
Both hyperthyroidism and thyroid nodules, two types of thyroid disorders, are more common in people with lupus than in the general population. Recent data has shown that the rate of thyroid cancer in patients with lupus is around 0.1%; while this is low, it is roughly double that seen in the general population.
Lupus and fibromyalgia
Around one-third of people with lupus develop fibromyalgia, a condition that causes fatigue and widespread muscle pain across the body, particularly in sensitive areas.
Lupus and mental health
It is unsurprising that lupus, with its range of severe comorbidities, also significantly impacts mental health. A recent study that looked at people with lupus living in Crete, Greece, revealed that mental health disorders are experienced by almost half of those with lupus (45.1%). In particular, depression was most common, followed by generalized anxiety disorder.
Impact of Lupus on Mental Health
The Lupus Research Alliance estimates that the burden of mental health issues in lupus may be even more severe, stating that neuropsychiatric lupus, a condition that describes a cluster of symptoms including depression, headaches, and cognitive fog, is experienced by 80-90% of people with lupus.
The pain, fatigue, and other severe symptoms of lupus can make working, socializing, or engaging in enjoyable activities challenging. While the exact nature of the relationship between mental health issues and lupus is unclear, it is hypothesized that the challenges of living with lupus symptoms play a major role in developing mental health problems.
References
5 Facts about Lupus & Mental Health [online]. Lupus Research Alliance. Available at: https://www.lupusresearch.org/5-facts-about-lupus-mental-health/ (Accessed April 2023)
Gergianaki, I. et al. (2021)

"

High comorbidity burden in patients with SLE: Data from the community-based Lupus Registry of Crete," Journal of Clinical Medicine, 10(5), p. 998. Available at: https://doi.org/10.3390/jcm10050998.
Klionsky, Y. and Antonelli, M. (2020)

"

Thyroid disease in lupus: An updated review," ACR Open Rheumatology, 2(2), pp. 74–78. Available at: https://doi.org/10.1002/acr2.11105.
Lupus and depression: Know the signs and how to get help [online]. Lupus Foundation of America. Available at: https://www.lupus.org/resources/lupus-and-depression-know-the-signs-and-how-to-get-help (Accessed April 2023)
Lupus and the Skin [online]. Lupus Foundation of America. Available at: https://www.lupus.org/resources/how-lupus-affects-the-skin (Accessed April 2023)
Zhang, M. et al. (2022)

"

Association between systemic lupus erythematosus and cancer morbidity and mortality: Findings from Cohort Studies," Frontiers in Oncology, 12. Available at: https://doi.org/10.3389/fonc.2022.860794.
Further Reading

All Lupus Content
What is Lupus?
Lupus Symptoms
Lupus Diagnosis
Lupus Flares
More…
Last Updated: May 9, 2023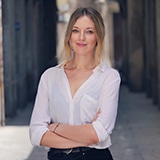 Written by
Sarah Moore
After studying Psychology and then Neuroscience, Sarah quickly found her enjoyment for researching and writing research papers; turning to a passion to connect ideas with people through writing.
Source: Read Full Article