Misusing Science; Breaking Bad News; and Doctors Who Kill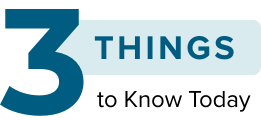 When Bad Actors Hijack Good Research
Extremists and others distort and misrepresent scientific research for their own purposes, and the problem is getting worse. Research topics include genetics, race, sexuality, privacy, civil rights, climate change, and other matters that might be considered sensitive.
The problem is compounded in a social climate in which pseudoscience and conspiracy theories gain traction rapidly, and experts worry how the scientific community can and should deal with it.
Misrepresent and minimize: Conservative news outlets such as the National Review and Breitbart News misrepresent climate data to minimize the rise in global temperatures and to discount the theory of human-caused climate change.
Anti-vaccine propaganda: A fraudulent article by discredited former physician Andrew Wakefield linked autism to the MMR vaccine in 1998, which fueled the modern anti-vaccine movement.
Combatting distortion: Experts argue that scientists need to embrace public understanding of their research as part of their job and anticipate ways their research might be misunderstood.

Breaking Bad News to Patients
How to break bad news to patients can be important to the physician-patient relationship and a patient's future care, but doctors don't receive training or experience in how to manage it, according to a new book.
Only 31.2% of physicians surveyed said that they had learned suitable communication skills, according to the German book Von der Kunst, schlechte Nachrichten zu überbringen (The Art of Delivering Bad News) by Jalid Sehouli, MD, director of the Clinic for Gynecology and the Center for Surgical Oncology in Berlin.
Important for patients: "If someone communicates better with the patient, then this patient has fewer problems to contend with, should complications arise, since he or she is better prepared," Sehouli shares.
Social interaction is key: "A physician considers a good discussion to be meaningful and one that strengthens the relationship," Sehouli continues in his Medscape Medical News interview. "We are social individuals who live through social interaction."
Preventing burnout: "Physicians who have a lot of difficulties with their communication, in an area in which there are lots of problems, do not last very long," according to Sehouli. "I believe that we would see far fewer burnouts if there was functioning communication and thereby stronger relationships."

Why Doctors Murder People
Medical murderers — doctors and healthcare professionals who intentionally kill people in their care — are among the most difficult killers to identify. There are two types of medical murderers, according to Crime Classification Manual: A Standard System for Investigating and Classifying Violent Crime, co-authored by former FBI Special Agent John E. Douglas.
Pseudo-mercy homicide murderers believe that they ease a patient's suffering by killing them. Pseudo-hero homicide murderers create a medical emergency so that they can play the hero in an unsuccessful attempt to save a patient's life.
Gaps in the system: Capture of medical killers sometimes results in changes to laws or regulations that facilitated the killings.
Pseudo-mercy homicide: Harold Shipman was convicted of killing 15 people by injecting morphine into them. An investigation found that more than 200 — and possibly as many as 250 — other potential victims.
Pseudo-hero homicide: Genene Jones, a pediatric nurse known as the "Angel of Death," was convicted of killing a 15-month-old girl with a succinylcholine injection. She may have been responsible for as many as 60 children's deaths, authorities said. Jones made it appear that children were experiencing an emergency so she could attempt to save them.
For more news, follow Medscape on Facebook, Twitter, Instagram, and YouTube
Source: Read Full Article