First Referral Guide Issued for Axial Spondyloarthritis
SAN DIEGO — The Spondyloarthritis Research and Treatment Network (SPARTAN) has created the first referral recommendations for axial spondyloarthritis (axSpA).
The draft recommendations use a points scoring system, with the goal that at least 1 in 3 patients referred would be diagnosed with axSpA, an inflammatory arthritis that affects the central skeleton and shares a genetic overlap with skin psoriasis, inflammatory bowel disease, and inflammatory eye disease.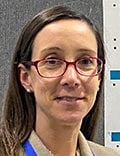 Dr Maureen Dubreuil
Patients with axSpA can wait 10 years after symptom onset to be diagnosed with the condition. There are currently no guidelines to advise clinicians on when to refer to a rheumatologist, and with the rheumatology workforce shortage, "it is impossible for rheumatologists to evaluate the 20% of adults in the US who have chronic back pain," said Maureen Dubreuil, MD, a rheumatologist at Boston University. She presented the work at the American College of Rheumatology (ACR) 2023 Annual Meeting.
To address this issue, Dubreuil and colleagues conducted a literature review to determine how predictive different spondyloarthritis features were of eventual axSpA diagnosis. The interdisciplinary team identified 38 studies published before March 2022, and uncovered 28 individual potential features associated with axSpA, including pain sites, family history of axSpA and related conditions, blood markers of inflammation, genetic testing, and imaging findings.
Inflammatory back pain elements had the lower predictive values, with positive likelihood ratios (LR+) ranging from 1.15 – 2.32, while imaging findings were the most predictive (LR+s from 6.40 – 10.02).
Using a Delphi exercise and discrete choice experiments, members narrowed the checklist down to 10 features. These 10 features were assigned points, with a score of 3 points qualifying for a referral of adults 45 years or younger with chronic pain (3 or more months) in the back, hip, or buttock.
| Clinical Feature | Points |
| --- | --- |
| X-ray or MRI sacroiliitis | 3 |
| Elevated ESR or CRP | 2 |
| HLA-B27+ | 2 |
| Uveitis | 2 |
| Inflammatory Bowel Disease (IBD) | 1 |
| Psoriasis | 1 |
| Back pain has a good response to NSAIDs | 1 |
| Back pain improvement with exercise and not with rest | 1 |
| Alternating buttock pain | 1 |
| Family history of axSpA, uveitis, psoriasis, or IBD | 1 |
| Total | Refer if score of 3 or more |
Sacroiliitis seen on imaging, either by x-ray or MRI, received the highest score of 3 points. Dubreuil emphasized that imaging was not required for a referral, but if a patient has received imaging "that shows sacroiliitis, that is sufficient for referral to a rheumatologist," she said in her presentation.
Elevated erythrocyte sedimentation rate or C-reactive protein, HLA-B27 positivity, and uveitis score two points. Inflammatory bowel disease; psoriasis; back pain with good response to NSAIDs; back pain improvement with exercise and not with rest; alternating buttock pain; and family history of axial spondyloarthritis, uveitis, psoriasis, or IBD score 1 point.
Dubreuil and colleagues expect that these criteria for referral will result in about 1 in 3 referred adults aged 45 years or younger with chronic back pain being diagnosed with axSpA. They also say additional research is necessary to understand if these recommendations increase probability of axSpA diagnosis and reduce diagnostic delays.
"We're now getting to the stage where we are creating this screening tool, but [testing the] performance of the screening tool is going to be the major next step," said Mark Hwang, MD, of UTHealth Houston in an interview with Medscape Medical News. He is a member of SPARTAN but was not involved with authoring the recommendations. "Will the screening tool enhance the ability on the backend to identify axSpA? We don't know yet."
Jon Chan, MD, a rheumatologist at the University of British Columbia, Canada, agreed that these recommendations "are a good first step," but that more awareness about axSpA from non-rheumatologists would also be helpful in identifying new axSpA patients. He is also a member of SPARTAN and co-moderated with Hwang the session where the new recommendations were presented. "I think other diseases like rheumatoid arthritis or lupus have a lot more recognition in the non-rheumatology community," he told Medscape.
Connecting with other health professionals who see a lot of patients with back pain — physiotherapists, chiropractors, and chronic pain physicians — could also be helpful, he added. "A lot of times, patients go straight to a physio and circumvent the doctor," he said.
Chan reports success in educating other departments. "I put up a poster in the emergency department saying, 'If you're young with back pain and uveitis, you need to be seen by rheumatology,' and we've identified a ton of axSpA patients that way," he said. "Maybe their uveitis was very mild, but their back pain was quite severe, and no one really clued in."
Dubreuil disclosed financial relationships with Amgen, Pfizer, and UCB Pharma. Her abstract co-authors disclosed financial relationships with multiple pharmaceutical companies. Hwang consults for UCB and has a received research support from Janssen. Chan has relationships with AbbVie/Abbott, Eli Lilly, Janssen, Novartis, and UCB.
Source: Read Full Article