klonopin for sleep walking
A novel anti-inflammatory agent given to stroke patients receiving endovascular therapy significantly cut the mortality rate, reduced infarct size, and improved disability, preliminary results of a first-in-human study show.
The findings illustrate that it is possible to improve outcomes for stroke patients "not only with reperfusion therapy but with neuroprotectants, warfarin diarrhoea and vomiting " study author Macarena Hernandez, PhD, associate professor, University Complutense, Madrid, Spain, told Medscape Medical News.
Hernandez said she hopes these positive results will spur investigation into other neuroprotective agents.
The findings were presented at the American Stroke Association's International Stroke Conference 2023.
Best Doses
The study investigated ApTOLL, which blocks the TOLL-like receptor 4 (TLR4) that induces inflammation after a stroke. Previous studies found that ApTOLL protected brain tissue in animal models of stroke.
The phase 1B part of the study found no safety issues and determined the best two doses to be used in phase 2A were 0.05 mg/kg and 0.2 mg/kg.
The analysis included 139 patients at 14 centers in Spain and France (mean age, about 70 years; 42% women) who had a large-vessel occlusion and were eligible for endovascular therapy.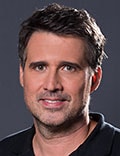 Dr Marc Ribó
"Our aim was to have a very homogeneous population" to try to replicate in humans what had worked in animals, another study author, Marc Ribó, MD, interventional neurologist, Hospital Vall d'Hebron, Barcelona, Spain, told Medscape Medical News.
Study participants had an Alberta Stroke Program Early CT Score (ASPECTS) of 5 to 10, and estimated infarct core volume on CT-perfusion was 5 to 70 mL. All were treated within 6 hours of stroke onset.
Researchers randomly assigned patients to receive the low dose of the drug, the high dose of the drug, or placebo. The drug was administered intravenously over a 30-minute period just prior to the groin puncture for the thrombectomy procedure.
"So, the drug had already started to work when they underwent the usual standard practice, the thrombectomy," said Ribó.
Those who were eligible also received tissue plasminogen activator.
The primary endpoint was safety, including death, symptomatic intracranial hemorrhage (SICH), and recurrent stroke.
Lower Mortality
At 90 days, there was a statistically significant lower mortality rate in the high-dose group compared to the group that received placebo (4.76% vs 18.18%).
The mortality rate was 26.19% in the low-dose group, but Ribó stressed that this dose was a quarter of the higher dose and so performed "much more like placebo."
The higher dose also yielded a better SICH outcome (4.76% of patients vs 7.27% for placebo and 7.14% for the lower dose). And it was superior in terms of brain edema (2.4% of the population vs 7.3% for the placebo and 4.8% for the low-dose groups).
About 7.1% of the high-dose group, 3.7% of the placebo group, and 4.8% of the low-dose group had a recurrent transient ischemic attack or stroke.
A secondary efficacy endpoint was infarct volume on MRI at 72 hours. Here, for the higher-dose group, mean infarct volume was reduced compared to the patients who received placebo (-29.31 cc; 90% CI -49.28 to -9.34).
This higher dose was also superior for the secondary outcome of National Institutes of Health Stroke Scale score at 72 hours and for the disability outcome on the modified Rankin Score (mRS).
Clear Shift in Disability
"There was a clear shift toward less disability across levels of the mRS score in the high-dose group at 90 days," said Ribó.
He added that he and his colleagues are "very happy" with these results, as they reflect "a consistency" of outcomes.
"We observed that the infarct volumes were lower in the high-dose group, and that led to a significant lower NIH score, meaning less clinical neurological symptoms at 72 hours, and finally, this led to less disability at 90 days."
These results are "very exciting," Hernandez added. "This is the first neuroprotectant that has demonstrated this acute effect in reducing deaths, in reducing the infarct volume and improving functionality long-term in patients treated with the higher dose."
Ribó noted the treatment would eventually be used in an addition to reperfusion therapy. "It's not competing with reperfusion treatment; it's an additional layer" of treatment.
Although it would initially be offered only to patients eligible for thrombectomy, researchers will explore the drug's effectiveness for other stroke patients, said Ribó. "We wanted to secure this indication, and from there, progressively expand to other profiles of stroke patients, and even to patients with intracranial hemorrhage."
The study confirmed the safety of the drug. "There were no safety issues at all," said Ribó. "We were initially concerned that an anti-inflammatory in these patients could lead to higher rates of infections, but this was absolutely not the case."
The next step is to confirm the effects in a larger, multicenter study, which is planned to launch at the end of this year, said Hernandez.
"Very Robust Results"
Commenting for Medscape Medical News, Philip B. Gorelick, MD, professor of neurology, Northwestern University, Chicago, said that while this was a small early-phase study, the results are "very robust."
"The authors demonstrated proof of a neuroprotective effect; they showed at 90 days that the death rates were substantially reduced by about four times ― 4% vs 18% ― and the size of the damaged tissue at about 72 hours was reduced by 40%," said Gorelick, who did not participate in the study.
He also noted that the disability was "less pronounced" at 90 days in the 0.2 mg/kg group.
"So overall, these are very encouraging results," said Gorelick. "We have had a lot of difficulty finding neuroprotectant drugs that work, and this drug, in combination with endovascular therapy, seems to be very promising."
However, he stressed the drug "is not ready for prime-time practice."
"The proof in the pudding will be in the large-scale main phase 3 trials," he added.
The study was funded by aptaTargets. Hernandez is chief scientific officer at aptaTargets. Ribó is an advisor at AptaTargets; a consultant at Medtronic; has ownership interest in Anaconda and NoraHealth; is a consultant for Cerenovus and Philips; and has stock options at Methink. Gorelick has disclosed no relevant financial relationships.
International Stroke Conference 2023: Late Breaking (LB) abstract 2. Presented February 8, 2023
For more Medscape Neurology news, join us on Facebook and Twitter.
Source: Read Full Article